We're excited to announce the release of mitmproxy 9, a free and open source interactive HTTPS proxy. This release brings support for raw UDP and DTLS, a new WireGuard proxy mode, and major usability improvements.
Raw UDP and DTLS Support

After adding DNS support in mitmproxy 8.1, Manuel Meitinger (@meitinger) now brings us support for raw UDP flows! Just like raw TCP mode, the new raw UDP mode allows you to intercept and modify any UDP-based protocol. To spice things up, Miguel Guarniz (@kckeiks) added automatic DTLS detection and interception on top, which makes it possible to peek into many encrypted UDP protocols.
WireGuard Mode (and Rust)
Fabio Valentini (@decathorpe) has been working on an experimental new proxy mode based on WireGuard. This new mode makes transparent proxying as easy as running mitmweb --mode wireguard connecting to a WireGuard VPN.
This represents a significat usability improvement for transparent mode (no more iptables), and – thanks to WireGuard's fantastic mobile support – makes it possible to only proxy specific apps on Android. On top of that, it's the first feature in mitmproxy that is implemented in Rust. Head over to Fabio's blog post to learn more!
Console Usability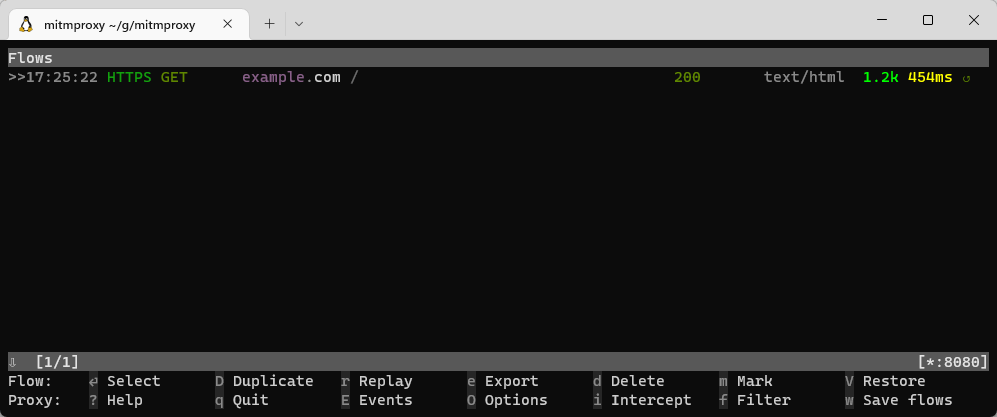 Similar to nano or htop, the mitmproxy console UI now shows a help bar with common keybindings at the bottom. This makes it easier to learn the most important features, but also helps to discover more advanced ones. It looks like even our most experienced users may learn something new! 🎉
Full Changelog
Since the last release, the project has had 187 commits by 31 contributors, resulting in 89 closed issues and 108 closed pull requests, all of this in just over 165 days.
Deprecations